There's no place like work for the holidays. Wait — that's not how it goes. But working through the holidays is a reality for roughly half of Americans. Instead of skiing and sipping hot cocoa by the fire, this winter break it's business as usual.
Unsurprisingly, productivity plummets this time of year. It's hard to focus on work when your Facebook feed is blowing up with festive cheer and tropical vacations. But don't let dreams of sugarplums distract you just yet — if you have to work through the holidays, you can make the holidays work for you instead.
Here are six ways to maximize your time in-office this season, to gain an advantage over the competition and hit the ground the running in 2018.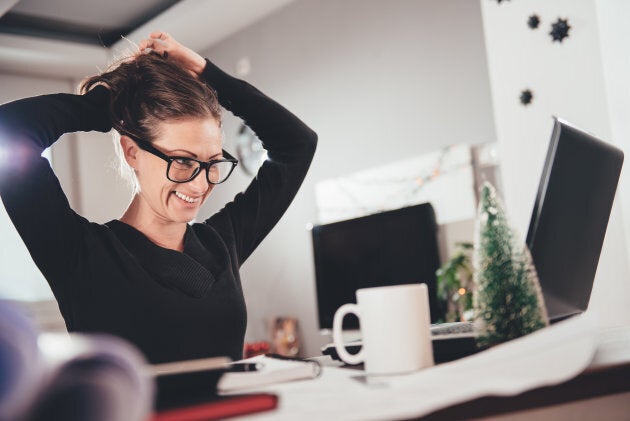 1. Ditch your to-do list. Do a top three Instead
You know you're probably going to procrastinate this time of year — we all do. But the only thing worse than working for the holidays is not having anything to show for it.
Focusing on what everyone else is doing will just give you FOMO. Instead, make a simplified to-do list to help you stay on track. Pare your list down to your three biggest priorities, both at work and at home; it's just as important to get your Christmas shopping done as it is to finish your spreadsheets. Schedule time for both so you can spend less time stressing and more time doing.
You likely won't be able to complete every project or attend every party, and that's OK. Use this system to prioritize what's most important, do your best, and the rest can wait until after New Year's.
I always "go dark" during vacations — basically, I shut work off completely.
2. Break up your day (and go dark for lunch)
Many of us are guilty of punching the clock from sunup to sundown. The average American works a full extra day every week worth of overtime. This holiday season, I challenge you to break the habit.
I always "go dark" during vacations — basically, I shut work off completely — and I encourage my team to do the same. But if fully unplugging isn't an option, you can still get some of the benefits by going dark for a few hours each day. Take your lunch break out of office and don't check email until you're back at your desk. This will break up your day and give you much-needed "you" time.
Work will still be there when you get back to the office tomorrow.
3. Set boundaries with a site blocker app
The holidays are meant for rest and relaxation, and catching up with family and friends — even if work is taking up the majority of your time. If you make the most of your office hours, you should be able to leave work behind when you head home. I encourage this at all times of the year, not just the holidays.
Checking email at home not only distracts you from your personal life, it's also bad for your health. When you get home from work, try disabling your email notifications or put your phone in a drawer to remove the temptation to check in. There are also site blocker apps that literally disable your ability to do work-related things for a designated period of time. When you unplug, you'll feel less stressed and more prepared to tackle work in the a.m.
No one wants to be the parent distracted by work problems while their kids open presents on Christmas morning. Or the friend too stressed about a big presentation to celebrate New Year's Eve with her friends. Be in the moment and enjoy it. Work will still be there when you get back to the office tomorrow.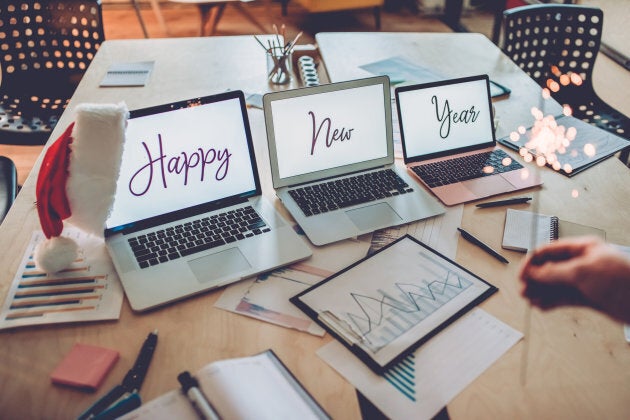 4. Remember, it's about balance
Self-care is often the first thing to go when times are busy. Between Christmas parties and family feasts, it doesn't take much to throw off your usual routine. To stay at peak performance, don't forget to fuel your body and mind with healthy food. But cut yourself some slack; it's still a time to celebrate and let loose.
During the holidays, I try to at least make sure my first two meals of the day are healthy. That way I'll feel less guilty if I have another holiday dinner later. The way I see it, two for three isn't so bad. It's all about balance: if you don't give yourself some leeway, you might end up going zero for three!
If you do it right, working through the holidays can be a powerful tool to kill it in the new year.
5. Use the time to create your own painted picture
I get it: working over the holidays is hardly ideal. But a negative attitude is one of the fastest ways to kill your productivity. Instead of complaining about all the things you're missing, look at what you'll gain: a chance to catch up and get ahead before heading into the new year.
This is a perfect time to reflect on the past 12 months, re-examine your priorities, and paint a picture of your future self. At our company, we literally call this our Painted Picture; it's a detailed vision of where we're headed and how we'll get there. It holds us accountable and ensures we're always moving forward.
If your boss says you have to work this holiday season, take a moment to wallow in self-pity — then brush yourself off and get to work. If you do it right, working through the holidays can be a powerful tool to kill it in the new year.
Follow HuffPost Canada Blogs on Facebook